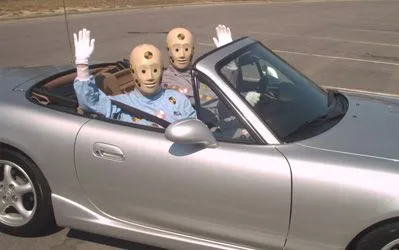 When we wake up in the morning and it's raining, we've all learned that this also means an increase in backed up traffic from morning commute accidents.When roads are slick and slippery, it is statistically around 4 to 5 times more likely for an accident to occur when compared to calmer weather. Our practice gets an increase in call volume during these times as well.
Bad weather or not, a common complaint with auto accident victims is that they don't feel like their normal selves. Besides the obvious injuries such as bruising, whiplash and muscle stiffness you may be experiencing neck pain, back pain, numbness and headaches and more subtle symptoms such as fatigue, irritability, trouble sleeping or find that you cannot concentrate and are tired all the time.
Because back pain and neck pain can be early signs of a severe problem, you should see a medical professional quickly. Ignoring the discomfort in your neck and back might make for more complex medical problems.
AT THE SCENE OF AN ACCIDENT
• Stop -- State law requires that when the driver of a vehicle is involved in an accident, wherein a person is injured or property damage is done, that person shall immediately stop the vehicle at the scene of the accident, or as close to the scene as possible without obstructing traffic more than is necessary
• Assist The Injured -- After stopping your car check for injured persons. If someone is injured or complains of injury, call 911 immediately. State law requires you to render reasonable assistance to any person injured in the accident including the carrying, or the making of arrangements for the carrying, of such person to a physician, surgeon, or hospital for medical or surgical treatment if it is apparent that treatment is necessary, or if such carrying is requested by the injured person. Do not move the injured person unless you know what you are doing. Good intentions on your part may result in further injury to the victim.
• Protect The Scene -- Take all possible precautions to prevent further accidents or injuries. Put on your hazard lights to warn approaching traffic and, if available, deploy flares or reflectors. If no flares or reflectors are available use a flashlight.
• Call The Police -- In every instance you should call a police agency even when it appears there is no injury or little property damage. The official police report may greatly assist you later should a dispute arise.
• Identify The Other Driver -- Obtain the other driver's name, address, and the registration number of the vehicle he is driving, and request that he exhibit to you his driver's license. If the other driver shows signs of intoxication, you may request that the police test the driver's sobriety.
• Comments -- Cooperate with the police and emergency personal. You must give, upon request, your driver's license or permit and insurance information to any police officer or investigator at the scene of the accident. Only speak to the investigating officer about the facts of the accident and to medical providers about injuries sustained. Make no other statements to anyone else. Write down any statements you hear made by the other driver or passenger(s).
• Witnesses - Obtain the name, address and phone number of all witnesses as soon as you can--both eyewitnesses and all others who might have some information about surrounding circumstances of the accident.
• Fill Out Accident Information Form And Diagram -- If circumstances permit, make your own written notes on all significant circumstances concerning the accident. Show position of cars before and after the accident. If there are skid marks, note them along with the estimate of their length.
• When To Leave The Scene -- Cooperate with the police and emergency medical personal; go to the hospital if it is recommended. Unless your injuries require you to do otherwise, do not leave the scene of the accident until you have assisted the injured, protected the scene, called an officer and assisted him, identified the other driver, obtained witnesses information and filled out the Accident Information Form and Diagram at the end of this pamphlet.
POST ACCIDENT
• Seek Medical Care Immediately -- If you are injured, seek medical care right away; do not wait. Some injuries may not appear until several hours after the initial trauma. If this is the case, seek medical care at once and follow the doctor's advice.
• Inform Insurance Company -- Make a complete report to your insurance company. Failure to make a prompt and correct report may affect your rights.
• Recorded Statements And Releases -- Do not give a recorded statement to the adverse insurance company or to the other driver. Do not sign any type of Release from the adverse insurance company without first having the document reviewed by an attorney.
• Photographs -- Take photographs of the damage to your car and if possible, damage done to the other car. If you have visible injuries such as cuts, swelling, burn marks, etc., take photographs as soon as practicable.
• Call Your Lawyer -- The insurance company may not always protect your rights. Consider setting an appointment with a qualified civil trial attorney to learn about your rights.